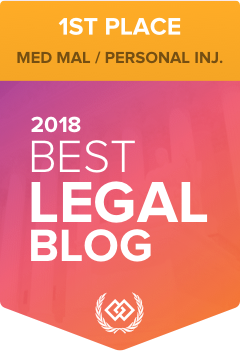 Readers Choose Levin & Perconti for "Best Legal Blog"
With a very special thank you to all of our blog readers and those within our online sharing communities, we are excited to announce that Levin & Perconti's Illinois Nursing Home Abuse Blog has won 1st place in the Medical Malpractice and Personal Injury category by The Expert Institute's 2018 Best Legal Blog Contest, one of the largest blog competitions of its kind. Levin & Perconti's Medical Malpractice blog was also a 1st place winner in 2017 making this a consecutive winning year for our online content to shine amongst the best. In 2019, we look forward to providing additional legal suggestions and will continue to build a resource of newsworthy information about the struggles of long-term care communities right here in Illinois but also across the U.S.
The Illinois Nursing Home Abuse Blog has helped many nursing home abuse and neglect victims, as well as their family members and even facility care staff, navigate through a confusing system of legalities. Some of our most shared posts also include a synopsis of successful litigation journeys for our clients, including:
The annual contest coordinated a review of legal blogs on every topic generated by reader nominations. Some of the most popular issues we write about include:
Our team of legal experts and writers appreciate the blog followers who take the time each week to visit with us and review our posts. While we do house seven different blogs, the Illinois Nursing Home Abuse and Neglect blog entries are some of the most visited and helpful for families and caretakers of nursing home residents (as well as nursing home staff) in Illinois and across the country.
We invite you to continue sharing feedback with us on what you would like us to research and write about in 2019. What topics are important to you?
Chicago Injury Lawyers and Nursing Home Abuse and Neglect Attorneys
If you feel a family member, friend, or patient may be a victim of nursing home abuse or neglect, please do not let it go unnoticed. Report it to nursing home officials, state regulatory bodies, and visit with a local nursing home abuse and neglect attorney to see what can be done.
Our consultations are always free, confidential, and handled by one of our skilled attorneys. Click here to fill out an online request form or call us toll-free at 1-877-374-1417 or 312-332-2872.